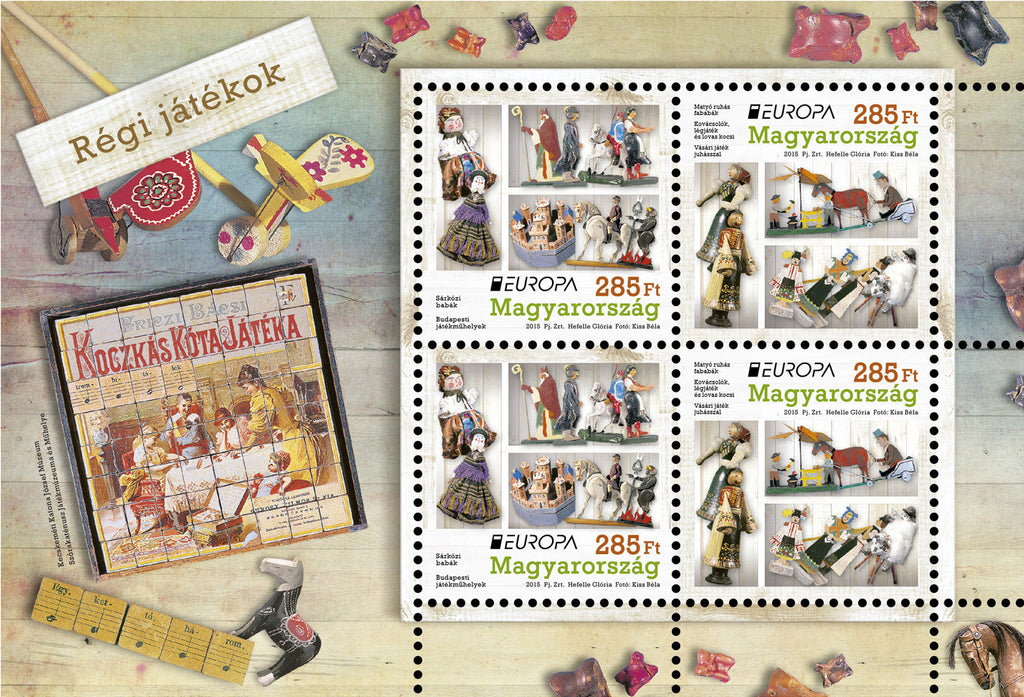 #4352 Hungary - 2015 Europa: Old Toys M/S (MNH)
EUROPA 2015 Miniature Sheet of 4 stamps, 2 pairs, #a-b. Designs: a, Dolls, hussar on horse-back, castle. b, Dolls, blacksmith and horse-drawn cart.
Format: Miniature sheet, including 4 stamps, 2x2 design
Each year PostEurop, the Association of European Postal Operators, offers its members the opportunity of issuing EUROPA stamps on a common topic. stamp by philatelic this Magyar Posta's few treasured toys from the Katona Szórakaténusz Toy Workshop in shown. The first stamp entered competition. copies designed by the graphic artist Glória Hefelle were produced by the Pénzjegynyomda printing company.
"Today almost 18,000 historical pieces are kept by the SZÓRAKATÉNUSZ Toy Museum and Workshop, which include ancient snail shell toys, simple folk toys, high quality factory-produced toys from the pre-war era, individual pieces made by Hungarian craftsmen, as well as rarities from children's literature, various toy collections and the world of magic."
Also listed under...
You may also be interested in...