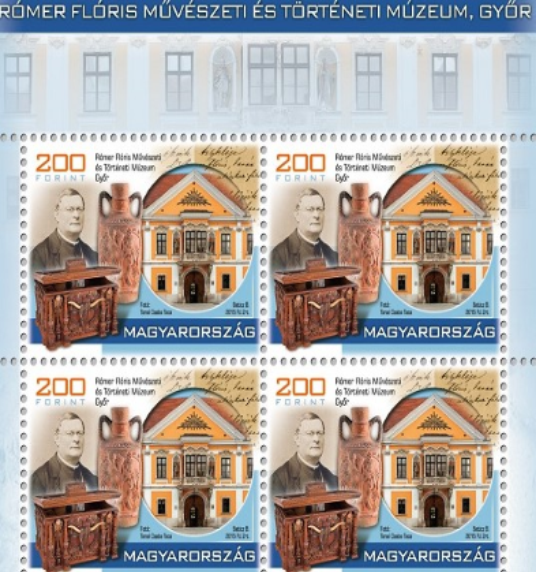 #4359-4360 Hungary - 2015 Treasures of Hungarian Museums III M/S (MNH)
Magyar Posta is presenting the collections of Hungarian museums on special stamps. Some of the highly prized treasures of the Rómer Flóris Museum of Art and History in Győr and the Zsolnay Collection of the Janus Pannonius Museum in Pécs are featured on stamps issued in the series . The new issues are in the format of a miniature sheet of four stamps.
Flóris Rómer (1815-1889) was born 200 years ago. As a Benedictine monk in Győr, he proposed founding a museum in 1857 as he realised that "antique artefacts" were of use in school education. His endeavours came to fruition on 6 May 1859 when the Imperial and Royal Central Board supervising research into and the maintenance of architectural monuments officially founded the museum. His notable successors considerably improved the collection and named the museum after Flóris Rómer.
The Janus Pannonius Museum's permanent exhibition presenting the Zsolnay Collection is housed in Pécs. The objects on display illustrate the development of Zsolnay architectural ceramics from historic revival style ornaments to large scale individual  works. Vilmos Zsolnay invented pyrogranite that enabled the use of very colorful ceramics on the façades of buildings. The basis of this Collection was the Zsolnay collection of the Municipal Museum of Pécs. It provides a historical overview of the manufacture of this form of ceramics and was given to the city by Miklós Zsolnay in 1907. The Zsolnay family founded the museum in 1928 to mark the centenary of the birth of Vilmos Zsolnay.
Also listed under...
You may also be interested in...