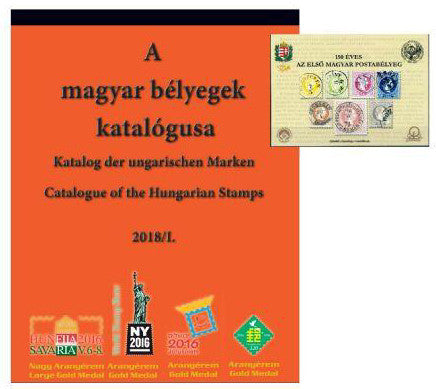 2018-2019 Hungary Specialized Catalog - Volume I + S/S
Magyar posta- és illetékbélyeg katalógus 2018-2019
2018-2019 edition of Philatelia Hungarica's self-published catalog, imported directly from Hungary. Also includes souvenir sheet.
Beautiful hardcover, full-color catalog. This comprehensive catalog contains all stamps issued by the Hungary -- many of which are not found in other catalogs. Listings in this catalog date back to the year 1867, when the first postal stamps were used in Hungary.

Please note: This catalog is in Hungarian. Prices are listed in HUF (Hungarian Forint). The catalog contains an English foreword.
Please note: For International customers, this product needs to to cover the additional shipping charge - thank you:
https://www.buyhungarianstamps.com/products/usps-international-priority-flat-rate-shipping
Also listed under...
You may also be interested in...