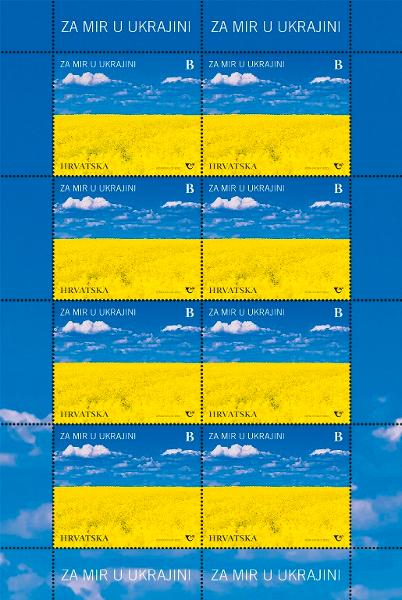 #1263 Croatia - 2022 Ukraine - Peace in Ukraine M/S (MNH)
Peace in Ukraine, Miniature Sheet of 8
From the Croatia Post:

"On 24 February 2022, the Armed Forces of the Russian Federation launched an
unprovoked aggression against Ukraine. The Republic of Croatia strongly
condemned and reaffirmed its support for Ukraine's independence, territorial integrity and sovereignty within its internationally recognized borders, which is a fundamental determinant in the relations and cooperation between the Republic of Croatia and Ukraine.
On 25 February 2022, the Croatian Parliament adopted the Declaration on Ukraine, which expresses Croatia's full solidarity with Ukraine and the Ukrainian people who are fighting to defend their country and calls for an end to Russia's military aggression against the Ukrainian people and infrastructure and for the establishment of peace."
Date of issue - April 12, 2022
Also listed under...
You may also be interested in...